The "KURSK"
CLICCA QUI PER LE ULTIME NOVITA'
Alle ore 07.28.27 del 12 Agosto 2000, una misteriosa esplosione danneggia gravemente il sottomarino nucleare sovietico Kursk, appartenente alla Flotta del Nord. Le apparecchiature sismografiche norvegesi registrano la scossa, equivalente al potenziale di 100 kg di TNT. Alle 07.30.42 una nuova forte esplosione, stavolta equivalente a circa 1.500 kg di TNT. Il sottomarino, con a bordo (ufficialmente) 118 uomini, sprofonda in circa 25 secondi sul fondo, a -108 metri nel mare di Barents, inclinandosi di circa 60° sul lato sinistro ed insabbiandosi sempre più in breve tempo. Squarciati ed allagati almeno 4 compartimenti di prua, con il portellone per l'uscita di emergenza danneggiato: recuperi praticamente impossibili.
***
At 07.28.27 on the 12th August 2000, a misterious explosion gravely damages the russian nuclear submarine Kursk, belonging to the North Fleet. The norwegian seismic devices record the shake, compared to 100 kg TNT potential. At 07.30.42 a new big explosion, this time compared to 1.500 kg TNT. The submarine, on which aboard (officially) there are 118 men, go down in about 25 seconds, down to -108 meters in the Barents Sea, inclining to about 60 degrees on the left side and sinking in the sand in a very short time. Broken and flooded at least 4 prow sections, with the emergency exit door damaged: the rescue is almost impossible.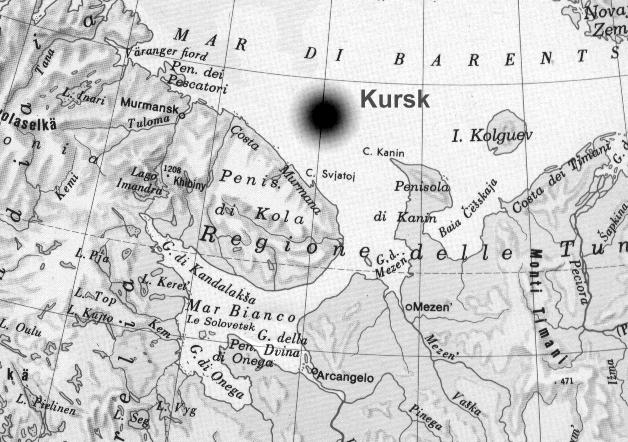 CRONOLOGIA - CHRONOLOGY
ITALIANO

ENGLISH

SABATO, 12 AGOSTO 2000:
un'esplosione, di origine ancora ignota, fa affondare il Kursk nel gelido mare di Barents, portandolo fino a -108 m.

LUNEDI', 14 AGOSTO 2000:
solo oggi la Marina russa annuncia il fatto. Cominciano le operazioni di recupero.

MARTEDI', 15 AGOSTO 2000:
dopo un iniziale rifiuto ad aiuti stranieri, il presidente Vladimir Putin "decide" di accettarli. Nel frattempo, i primi tentativi sovietici sono falliti.

GIOVEDI', 17 AGOSTO 2000:
i tentativi di salvataggio russi continuano (arrivando poi fino alle 10 volte), ma sempre senza successo. Intanto vengono diffuse innumerevoli versioni sui fatti avvenuti.

SABATO, 19 AGOSTO 2000:
cominciano le operazioni dei sommozzatori norvegesi. In tarda serata giunge lo speciale batiscafo inglese LR5.

MERCOLEDI', 23 AGOSTO 2000:
dopo il fallimento di tutti i tentativi di salvataggio, compreso quello dell'LR5, in Russia viene proclamato il lutto nazionale in memoria dei marinai del Kursk.

GIOVEDI', 26 OTTOBRE 2000:
solo oggi vengono recuperati i primi 4 corpi dei marinai.

SATURDAY, AUGUST 12th 2000:
an explosion, still unknown, makes the Kursk to sink in the freezing Barents Sea, carrying it down to -108 m.

MONDAY, AUGUST 14th 2000:
just today the russian Navy announces the new. Rescue operations begin.

TUESDAY, AUGUST 15th 2000:
after an initial refusal to the foreign help, the president Vladimir Putin "decides" to accept them. Meanwhile, the first attempts fail.

THURSDAY, AUGUST 17th 2000:
soviet rescue attemps continue (up to 10 times), but always without success. Meantime there are spread a lot of versions about the facts.

SATURDAY, AUGUST 19th 2000:
norwegian submen operations begin. In the late evening the english special boat LR5 arrives.

WEDNESDAY, AUGUST 23rd 2000:
after the failing of all rescue attemps, included the LR5's one, the national mourning is proclamed in Russia in memory of the Kursk submariners.

THURSDAY, OCTOBER 26th 2000:
just today the first 4 sailors corpses are recovered.
DATI DEL KURSK - KURSK DATA
KURSK K-141 - CLASSE OSCAR II
ENTRATA IN SERVIZIO: 1995
DIMENSIONI: 154 x 18,2 x 9,2 m
DISLOCAMENTO: 10.700 t (in superficie), 13.500 t (in immersione)
ARMAMENTO PRINCIPALE: 24 P-700/SS-N-19 Granit/Shipwreck SSM
EQUIPAGGIO STANDARD: 107 persone (52 ufficiali e 55 marinai)
Il Kursk appartiene alla Flotta del Nord, con quartier generale presso Severomorsk. La Flotta comprende, fra gli altri mezzi, 57 sottomarini: 18 nucleari e 39 diesel-elettrici.
***
KURSK K-141 - OSCAR II CLASS
SERVICE START: 1995
DIMENSIONS: 154 x 18,2 x 9,2 m
DISPLACEMENT: 10.700 t (surface), 13.500 t (submerged)
PRIMARY ARMING: 24 P-700/SS-N-19 Granit/Shipwreck SSM
STANDARD CREW: 107 people (52 officials e 55 enlisted)
The Kursk belongs to the North Fleet, with the headquarter in Severomorsk. Excluding the other vehicles, the Fleet consists of 57 submarines: 18 nuclear and 39 diesel-electric.
POSSIBILI CAUSE - POSSIBLE CAUSES
| | | | |
| --- | --- | --- | --- |
| Esplosione a bordo | Impatto con il fondale | Collisione con intruso | Mercantile fuori rotta |
| La tesi più probabile. Probabilmente si è trattato dell'esplosione di un siluro interno che ha innescato una reazione a catena. Anche perché forse i siluri russi non venivano sparati con aria compressa ma con combustibile liquido... | In questo caso, l'incidente sarebbe avvenuto a causa di inesperienza dei navigatori russi i quali, passando da navigazione automatica a manuale, avrebbero sbagliato qualcosa. | Molto discussa l'ipotesi della collisione tra il Kursk ed un altro battello "spia", probabilmente un sottomarino inglese o americano. Ma l'altro mezzo avrebbe dovuto subire anch'esso un ingente danno... | Forse la colpa può essere attribuita ad un mercantile russo il quale, volutamente o no, ha varcato le linee di limite della zona militare sovietica riservata alle esercitazioni. |
| Explosion aboard | Impact with the ground | Collision with intruder | Ship off course |
| The most probable thesis. Maybe it happened an inside torpedo explosion which caused a sequence reaction. Also because, perhaps, sovietic torpedo weren't launched with compressed air but with liquid fuel. | In this case, the incident happened for the sovietic submariners inexperience who, going from automatic to manual navigation, could make a mistake. | Very debated the hypothesis of collision between Kursk and another "spy" boat, probably an english or american submarine. But the other boat should be seriously damaged too. | Maybe guilt could be attributed to a russian merchant ship which, with will or not, crossed the sovietic military boundaries of the area reserved for trainings. |
MEZZI DI SOCCORSO - RESCUE VEHICLES
LR5
LUNGHEZZA: 10 m
DISLOCAMENTO: 21 t
VELOCITA': 2 nodi
PROFONDITA' MASSIMA: 550 m
AUTONOMIA: 8 ore
CAPACITA': 3 di equipaggio e 15 passeggeri
***
LR5
LENGHT: 10 m
DISPLACEMENT: 21 t
SPEED: 2 knots
MAX DEPHT: 550 m
AUTONOMY: 8 hours
CAPACITY: 3 crewmen and 15 passengers
IMMAGINI DEL KURSK - KURSK PICTURES
---
Un ultimo pensiero ai sommergibilisti del Kursk, morti orribilmente.
***
A last thought to the Kursk submariners, horribly dead.
---
Quello che segue è il distintivo originale del Kursk, fornito gentilmente dal Capitano C. Di Nitto.