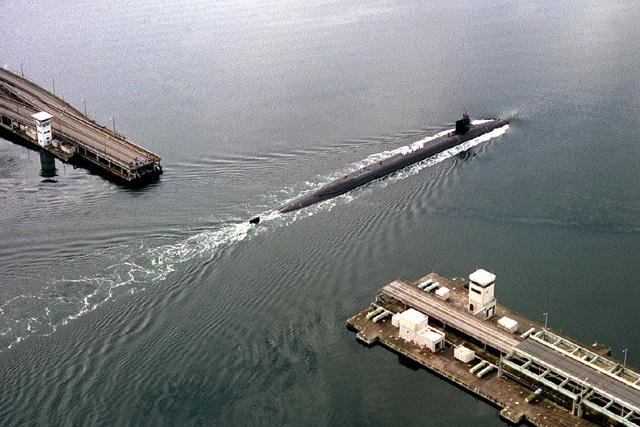 CLASSE OHIO - OHIO CLASS (SSBN)
SCHEDA TECNICA - SSBN OHIO

Dimensioni

170,7 x 12,8 x 11,1 m

Dislocamento

16.600 t in emersione e 18.750 t in immersione

Propulsione

1 reattore nucleare General Electric S8G

e due turbogeneratori da 44,8 MW,
un motore diesel ausiliario, un'elica a 7 pale

Velocità Massima

20 nodi in emersione, 25 nodi in immersione

Profondità Massima Operativa

300 m

Scafo

Scafo singolo in acciaio HY 80 con rivestimento anecoico

Armamento

24 pozzi per missili Trident e 4 tubi lanciasiluri da 533 mm (permettono di lanciare siluri Mk 48 ADCAP)

Acustica

Sonar a scafo IBM BQQ-6 passivo integrato con Raytheon BQS-13,


sonar Ametek BQS-15 ad alta frequenza attivo/passivo,


sonar rimorchiabile Western Electric BQR-15 passivo integrato


con BQQ-9, sonar Raytheon BQR-19 ad alta frequenza attivo

Elettronica

Radar di navigazione e lancio Sperry BPS-15A, sistema di direzionamento siluri Mk 118


e di direzionamento missili Mk 98,

sistemi ECM/ESM WLR-8(V)5, WLR-10,


sistema di comando e controllo

CCS Mk 2 mod. 3 con hardware UYK-43/44

Equipaggio Standard

157 uomini, di cui 15 ufficiali
I sottomarini della Classe Ohio sono armati con missili nucleari strategici. Tenendo conto che gli Stati Uniti dispongono di 18 Ohio, ognuno dei quali dotato di 24 missili Trident, la metà del deterrente nucleare degli Stati Uniti è rappresentato da questi sottomarini.
---
The Ohio Class submarines are armed with strategic nuclear missiles. If we think United States have 18 Ohio, each carrying 24 Trident missiles, 50 percent of the total U.S. strategic warheads is represented by these submarines.
----------
Battelli, Ships:
Naval Submarine Base, Bangor, Washington:
USS Ohio (SSBN 726)
USS Michigan (SSBN 727)
USS Florida (SSBN 728)
USS Georgia (SSBN 729)
USS Henry M. Jackson (SSBN 730)
USS Alabama (SSBN 731)
USS Alaska (SSBN 732)
USS Nevada (SSBN 733)
Naval Submarine Base, Kings Bay, Georgia:
USS Tennessee (SSBN 734)
USS Pennsylvania (SSBN 735)
USS West Virginia (SSBN 736)
USS Kentucky (SSBN 737)
USS Maryland (SSBN 738)
USS Nebraska (SSBN 739)
USS Rhode Island (SSBN 740)
USS Maine (SSBN 741)
USS Wyoming (SSBN 742)
USS Louisiana (SSBN 743)

Equipaggio, Crew: 15 Ufficiali, 140 Marinai; 15 Officers, 140 Enlisted.